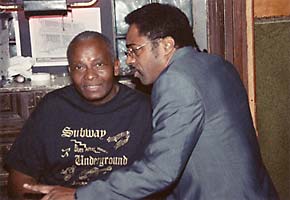 Jimmy King (left) and Vasti Jackson at the Subway Lounge
Jackson's Subway Lounge, displaced after Summers Hotel, the first black-owned hotel in the city, was demolished, will rise again in the Farish Street Entertainment District. The original Subway was featured in the 2003 documentary, Last of the Mississippi Jukes.
Subway operator Jimmy King and John Elkington, CEO of Performa Entertainment Real Estate, developer of the district, formally agreed on Nov. 10 to resurrect the Subway in a 4,000-square-foot existing building in the two-block entertainment district.
Since its closing, King has hosted a Subway night at Schimmel's once a week. Schimmels holds the Revised Subway Lounge, serving the traditional hot dogs and buckets of beer on Saturday nights to help raise money for a future location.
The Subway will be part of the $12 million Farish Street revitalization. Businesses, including B.B. King's Blues Club and King Biscuit Cafe, will begin opening in April 2006.