I have understood. And the certainty that there is nothing to understand should be my peace, my triumph.
~ Umberto Eco, Foucault's Pendulum
Foucault's Pendulum - Italy recently re-created Foucault's pendulum experiment, conducted 154 years ago, which showed the Earth's spin in Bologna. Jean Bernard Foucault's experiment (not to be confused with Michel Foucault, the 20th century philosopher) proved the Earth rotates. In 1851, he invited members of the press of the day to the Parisian Panthenon, and they were shown the movements of a giant pendulum that traced a shifting trajectory in the sand. He first demonstrated the pendulum during the first World Fair in London that year. (The following year he invented the gyroscope.)
Bologna staged the re-creation because they contend it was one of their own, a monk named Giovanni Batisti Guglielmini, who first conducted the experiment (or at least attempted to). He dropped weights from Bologna's towers to show the Earth's rotations, but he flubbed his calculations and no one understood what he was talking about. (Hey, maybe we should name this the Giovanni Rule - if you call the press to see your experiment, it will inevitably fail, until they leave, of course.)
Foucault's Pendulum - The 1988 book by Italian novelist and philosopher Umberto Eco (which actually deals with the philosopher, Michel, and conspiracy theories). It has been called a thinking person's Da Vinci Code. But he did talk about the actual pendulum in the book. (Read an excerpt here.)
You may have seen Foucault's pendulum. There's one in the Science Museum in London (part of the National Museum of Science and Industry), and there are many more in various locations around the UK (for instance, in Glasgow) and the world (including one at the United Nations Headquarters and a famous example at Le Panthéon in Paris). Almost every major science museum in the U.S. has one on display.
Mathematical Mysteries of Foucault's Pendulum - Why is it affected by a solar eclipse?
Build Your Own Foucault's Pendulum - You don't need a ceiling 50 feet high. If you are interested in building your own, you might like to go to your library and read two articles from Scientific American magazine: pages 115-124 of the June 1958 issue and pages 136-139 of the February 1964 issue.
A Hands-On Version That You Don't Have to Build - The Foucault Pendulum at the School of Physics of The University of New South Wales is a "hands-on" version. There is no electromagnetic drive but, because of its size once it is started it will swing for several hours. Visitors are invited to start it swinging in a plane that is accurately defined by a fixed vertical wire and a vertical line on the wall. The pendulum takes seven minutes to precess one degree, but even smaller angles than this can be seen by sighting along the reference plane.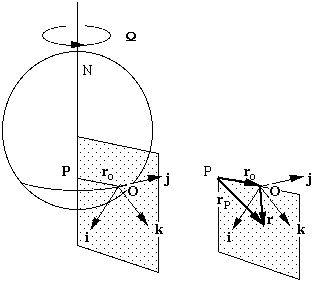 A Derivation of the Precession of the Foucault Pendulum
The Action of the Pendulum Comes As a Result of the Coriolis Effect
Daryl Bender in Canada is Building a Foucault's Pendulum
Goals tagged "Foucault's Pendulum" on 43 Things
Chris Abraham says Statistically Improbable Things (SIPs) are echoes of Foucault's Pendulum.
Foucault's Pendulum was named one of science's 10 Most Beautiful Experiments by physicists.
Science Design produced the world's first small Foucault's Pendulum for purchase.