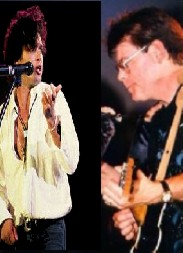 Image via Ape Culture
John Mellencamp promises the play he has been working on with Stephen King since 2000 won't be "Jack and Diane" meets Cujo. In November, the duo will be in New York looking for actors and a director.
The play was Mellencamp's idea, but King, a longtime admirer, quickly agreed to help. King's first foray into theater, a 1988 adaptation of Carrie, lost $8 million and closed after five performances on Broadway. Now King wants to return, this time with a macabre opera featuring rapping ghosts.
"The music is folk, it's blues, it's jazz, it's Cajun - and even a couple of traditional Broadway songs," say Mellencamp. "There's only two songs that you'd identify with me."
The plot center around two feuding brothers and a remote cabin inhabited by ghosts and the devil. "What has happened is that the father had two older brothers who hated each other and killed each other in that cabin," says Mellencamp. "There's a confederacy of ghosts who also live in this house. The older [dead] brothers are there, and they speak to the audience, and they sing to the audience. That's all I want to say, except through this family vacation, many things are learned about the family, and many interesting songs are sung."
"I'm not going to tell you what happens," he says, "but I guarantee you there's no f***ing dancing."
Whew, I was worried there for a minute.
King says, "It was kind of a ghostly thing, which is why he thought of me, I guess. I liked the story."
While the road is littered with unsuccessful musicals by pop artists, both Mellencamp and King are adopting a "why not?" attitude. "We talked about [Paul Simon's] 'Capeman.' John and I both agree that maybe it didn't work, but that this might," says King. "That's really part of my attraction about working with him. He has a lot of courage and ability to go in there and say, 'This isn't supposed to work, but we're going to do it anyway.'"