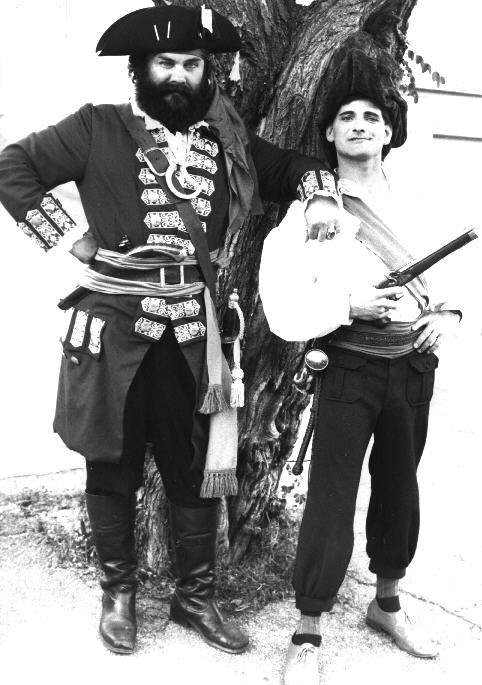 "...this time however I come as the victorious Dionysus, who will turn the world into a holiday...Not that I have much time..."
~ Nietzsche
Daniel Defoe, writing under the pen name Captain Charles Johnson, wrote what became the first standard historical text on pirates, A General History of the Robberies and Murders of the Most Notorious Pirates. He showed that life on the high seas was a great equalizer - kind of like the Internet. Pirate recruitment was most effective among the unemployed, escaped bondsmen and transported criminals (kind of like bloggers). ;)
The sea-rovers and corsairs of the 18th century created an "information network" that spanned the globe: primitive and devoted primarily to grim business, the net nevertheless functioned admirably. Scattered throughout the net were islands, remote hideouts where ships could be watered and provisioned, booty traded for luxuries and necessities. Some of these islands supported "intentional communities," whole mini-societies living consciously outside the law and determined to keep it up, even if only for a short but merry life.
Bey sees the modern equivalent as a "temporary autonomous zone," or TAZ, but fears that it's nothing but "a poetic fancy" in the age of GPS tracking and eyes in the sky.
But it kind of reminds you of your blogger friends, doesn't it? It's friendship of an autonomous nature. They are not at your doorstep asking for a cup of sugar, but they are there - in your psychic space - nonetheless.
The rise of blogs also plays into what Bey terms as "psychic nomadism." But not all those who wander are lost. My online searchings have led me to a host of other square pegs like myself - who, though far away from me, make me feel like I'm right at home.
And the TAZ is seen as a way to disappear. How many of us use our blog as a way to disappear - and to appear and to reappear - to ourselves and in others?